A few weeks ago I took an in-depth look at some of this year's top prospects (read here!). After many more hours of research and scouting, I decided on and ranked the top 10 players in 2018 NHL Draft.
*Note: This is not a mock draft. I don't think the draft will go in this order. These are just my personal player rankings!
---
My 2018 Top 10:
---
1. Rasmus Dahlin, D, Frolunda HC –
It's quite simple. The puck-moving defenseman has the potential to be better and even more dynamic than fellow Swedes Erik Karlsson and Victor Hedman. He could even supplant Nicklas Lidstrom as the greatest Swedish defenseman of all time. There are certainly high expectations for the 18-year-old kid. He is a franchise-altering talent, and will without a doubt be this year's first overall pick. Dahlin should be an impact player as a teenager and a future Norris Trophy winner. There's not that much else to say about him. He is gonna be special. He is a generational talent.
Rangers Outlook: Dahlin is going to be picked first. The Sabres aren't interested in trading the pick. Dahlin is headed to Buffalo. End of story.
---
2. Andrei Svechnikov, LW, Barrie Colts –
I think many people overestimate the talent gap between the consensus top two picks. Rasmus Dahlin has stolen the spotlight, but Andrei Svechnikov is quite the consolation prize. While the Swedish phenom is the clear-cut number one overall pick, Svechnikov still has the potential to be a franchise player. The 18-year-old Russian is a true sniper. He has the perfect combination of ideal physical attributes and outstanding puck skills. He boasts a lethal shot and compliments that with tremendous strength, size, and speed. Svechnikov scored 0.91 goals per game this past season. The last player out of the OHL to score at a higher clip was Connor McDavid, who tallied 0.94 goals per game. The youngster should be NHL-ready next season.
Rangers Outlook: Andrei Svechnikov will be picked second in this year's draft no matter what team is making the pick. It was reported that New York and Carolina talked about a deal involving the second overall pick, but it ultimately fell through. If a deal were to be made, Kevin Hayes would likely be heading the other way along with more. If Jeff Gorton wants Svechnikov, he will have to pay a hefty price.
---
3. Filip Zadina, LW, Halifax Mooseheads –
The 18-year-old Czech winger, Filip Zadina, rounds out my top-three. Zadina has game-breaking talent, and he is arguably this year's most offensively-gifted prospect. His 82 points in 57 games this past year support that belief. He is truly a playmaker with his great hands and vision, but Zadina is also a natural goal-scorer. He is one of those guys that can play with anyone and make his line-mates better thanks to his top-notch skills. It wouldn't be surprising to see the 18-year-old suiting up in an NHL uniform next season.
Rangers Outlook: There is a slight chance that Filip Zadina somehow falls to the ninth pick. It'd be a true miracle for the New York Rangers front office and their fans, as Zadina's talent warrants a top-three selection. With Montreal's interest in Jesperi Kotkaniemi, the whole board could be shaken up, resulting in a ripple effect that could ultimately cause Zadina to fall to pick number nine. It's unlikely, but not out of the realm of possibility.
---
4. Oliver Wahlstrom, RW, USA Under-18 team –
Much of what I said about Andrei Svechnikov also applies to Oliver Wahlstrom. Wahlstrom is a pure goal-scorer with the potential to become a point-scoring top-line winger. Wahlstrom has a quick and deceptive release that is better than that of anyone else in this draft. The 18-year-old American is a volume shooter, and his shot is both powerful and accurate. Wahlstrom is deadly on the power-play, as he spends his time on the man-advantage blasting one-timers from "Ovie's office". Along with his goal-scoring prowess, Wahlstrom is a terrific skater, an underrated passer, a big forward, and is a part of the penalty-killing unit. Wahlstrom notched 45 points (22 goals) in 26 USHL games this season. He should be a future star. Wahlstrom will attend Boston College next fall.
Rangers Outlook: I think Wahlstrom is the Rangers' primary draft target. It is realistic to believe that he could fall to pick number nine, and he would address New York's pressing need for scoring wingers. Wahlstrom would absolutely be the ideal selection for New York, as he is a guy that this team could be built around. Let's pray he's available at pick nine.
---
5. Quinn Hughes, D, Michigan Wolverines –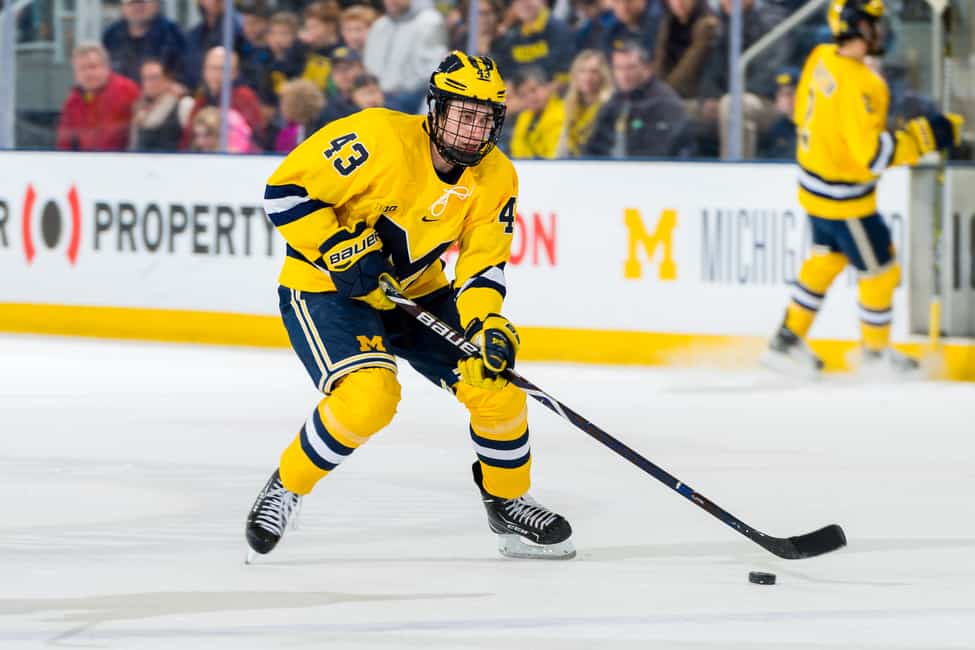 Coming in at number five in my rankings is another American: Quinn Hughes. The 18-year old defenseman finished off his freshman campaign at Michigan University with 29 points in 37 games and was a second-team All-Star in the Big 10. As one of the youngest players in the NCAA, Hughes led a Wolverines team that made it all the way to the Frozen Four semifinals. At only 5'10'', 175 pounds, Hughes is definitely undersized. But, what Hughes lacks in size, he makes up for in skating ability, skill, and smarts. The only concerns about Hughes stem from his small stature, yet he does so many other things well. Hughes is one of the best skaters I've ever seen. He has great straight-line speed, he effortlessly moves laterally, and he is super elusive and shifty. The Orlando native has superb vision, a dangerous shot, and loves to have the puck on his stick. With his skating, Hughes is a one-man defensive-zone breakout and a human highlight-reel. Furthermore, Hughes' quickness helps him defensively, as it allows him to retrieve dump-ins and pounce on loose pucks. His skill-set perfectly fits the direction that the NHL is headed. I wholeheartedly believe that Hughes is undoubtedly the second-best blueliner in this year's draft, which features a pool that contains a plethora of quality options on the back-end.
Rangers Outlook: I think the Rangers are really hoping to add a scoring winger with their first pick. If those high-end guys (Zadina, Wahlstrom, Tkachuk, and Kotkaniemi) are unavailable, then I think they would obviously shift their focus towards the defensemen. I'd bet Hughes follows Dahlin on their list of defensemen. If the aforementioned forwards have been selected and Hughes is up for grabs, I think he would be the right pick.
---
6. Brady Tkachuk, LW, Boston University –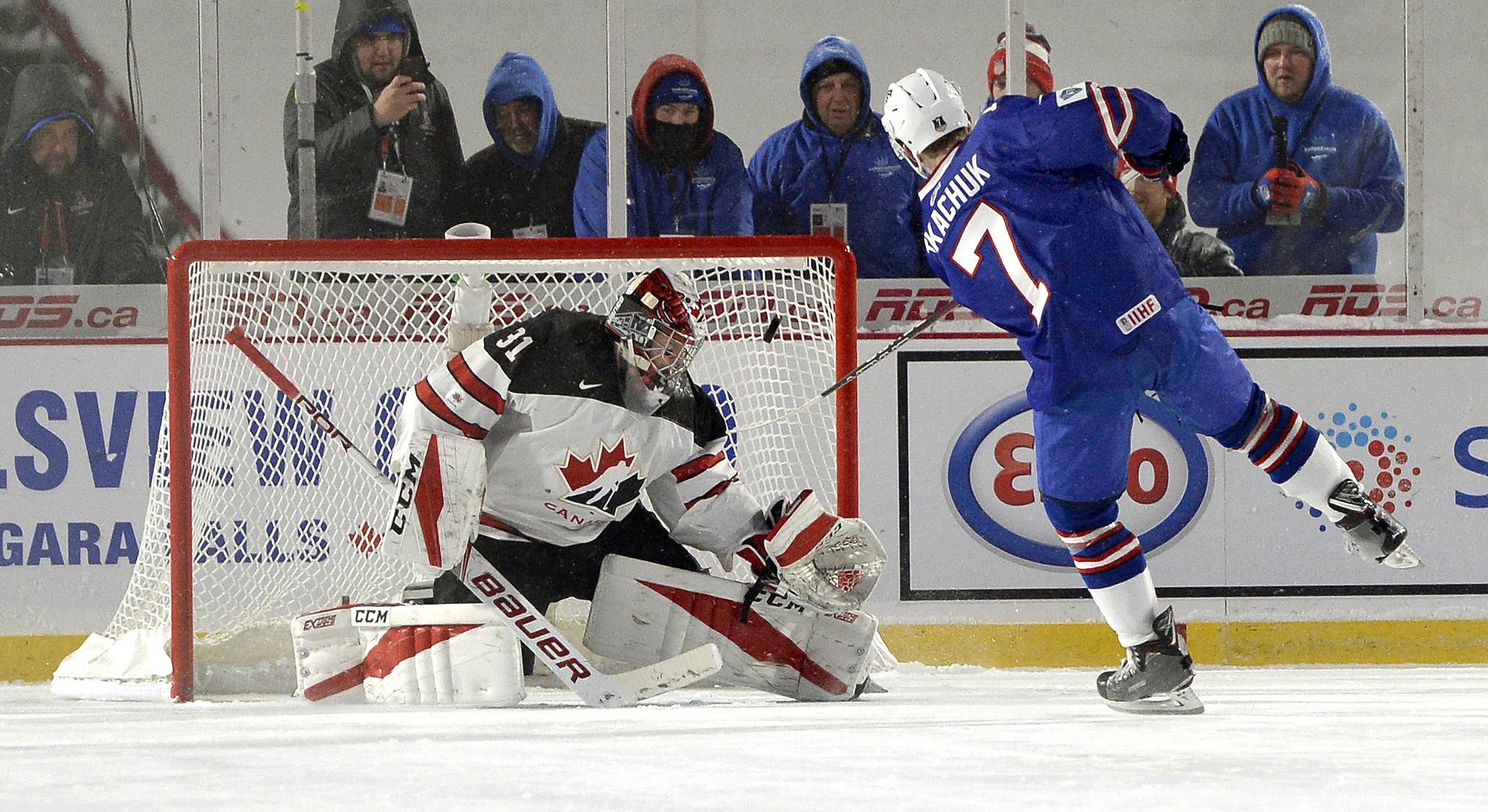 If I were an NHL scout, Brady Tkachuk would be a prospect that I would really struggle to pass up on. He's 18-years-old, stands at a towering 6'3'' 195 pounds, and is perhaps the most NHL-ready of all of this year's incoming rookies. Not only does Tkachuk possess these helpful attributes, but he also has plenty of finesse to his game. Tkachuk uses his monstrous frame to win battles along the boards, and from there he is a nice distributor. His awareness and decision-making on the ice are off-the-charts. Tkachuk scores most of his goals inside the blue-paint, but his shot is very dangerous, and he seems to have a real nose for the net. Tkachuk also has magnificent hands and routinely makes goalies look silly with his beautiful dangles. Brady is very similar to his older brother Matthew, in that he plays a nasty physical game, and is a guy that can slot in anywhere in the lineup. He's the type of edgy player that you love to have on your team, but hate to play against. Tkachuk had a solid season a Boston University this past year; however, he really lit it up at the World Junior Championships, where he tallied 9 points in 7 games. I think he has 60+ point first-line winger potential. Tkachuk is one of few guys with a high-floor and a high-ceiling at the same time, making him an extremely appealing draft pick.
Rangers Outlook: I hope he's third on their list of forwards. I don't think it's worth trading up to nab Tkachuk, but if Wahlstrom is taken and Tkachuk was to be available at nine, that'd be an absolute steal. I'd be thrilled with picking Tkachuk at nine, as long as he is not selected instead Zadina or Wahlstrom. Don't forget, David Quinn coached Brady Tkachuk last year and is a big fan of his.
---
7. Jesperi Kotkaniemi, C/LW, Assat –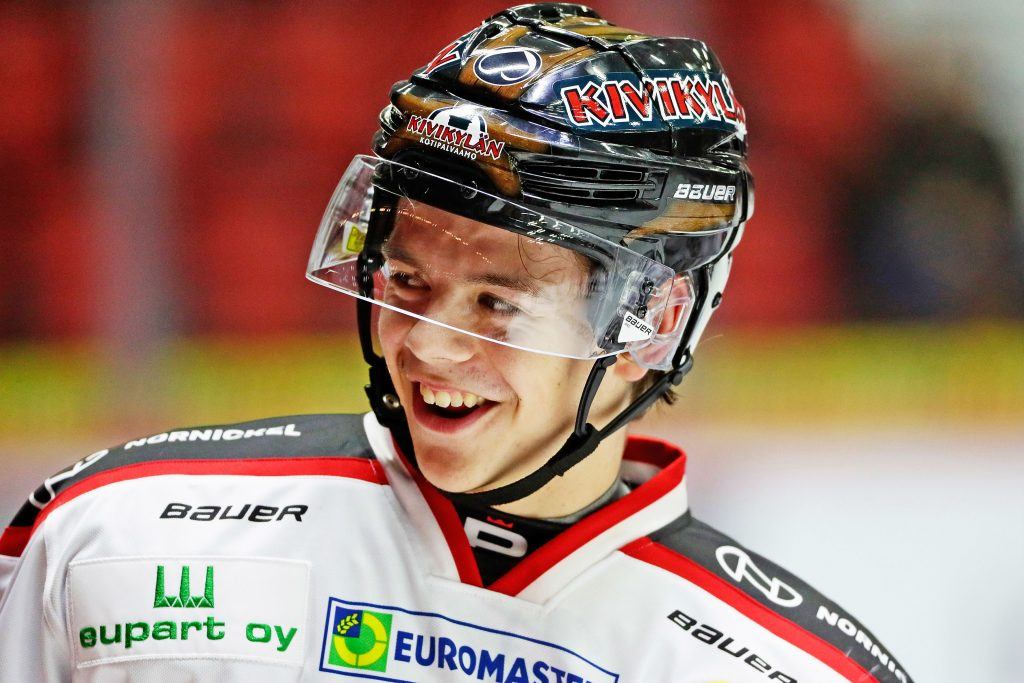 I'm a big fan of Jesperi Kotkaniemi. Kotkaniemi has skyrocketed up draft boards recently due to his status of being the projected top center in this year's class. The Finnish forward is very versatile, as he can play up the middle or on the wing. He put up 29 points in 57 games as a 17-year-old playing against men in Finland. Kotkaniemi really excelled in international play when he was given the chance to play against opponents his own age. His shot is improving, he is a wonderful passer, and is a two-way player. He is also pretty big, at 6'2'' 185 pounds. My only concern with the 17-year-old is that his skating isn't quite at the same level as many of the other forwards. Nonetheless, Kotkaniemi's high-end offensive talent gives him the potential to be a top-six center.
Rangers Outlook: It looks like the Montreal Canadiens are targeting Kotkaniemi with the third overall pick, especially now that Alex Galchenyuk has been dealt to Arizona. Montreal has a need for centers, and they believe Kotkaniemi is the best one available. Kotkaniemi would be a reach at three, and a prime example of not drafting the best player available.
---
8. Vitali Kravtsov, RW, Chelyabinsk –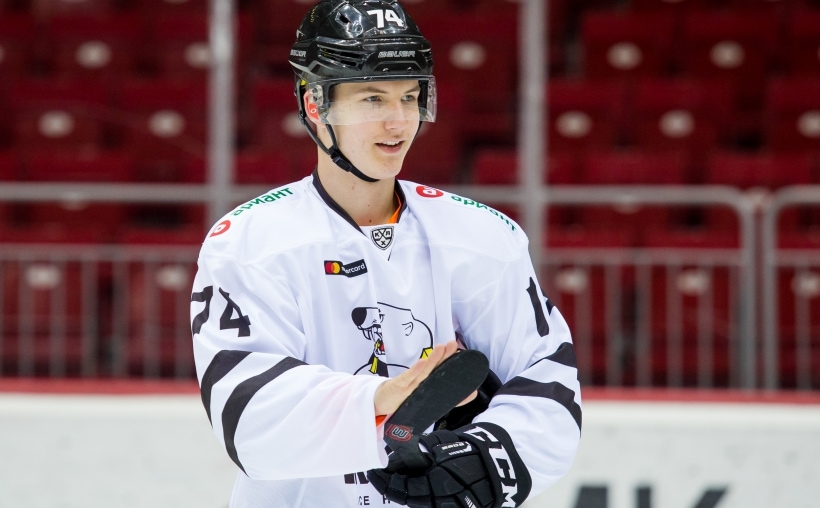 Vitali Kravtsov is your prototypical high-end Russian winger. He is big, quick, has great awareness, and is super-skilled. Kravtsov spent most of this past season playing in the KHL, the world's second-best hockey league, and at just 18-years-old, Kravtsov posted 7 points in 35 regular season games. However, the young Russian burst onto the scene in the playoffs. His 11 points in 16 contests marked a KHL record for most playoff points by a player under 18. Kravtsov has been compared to one of the NHL's top Russian forwards: Evgeny Kuznetsov. Kuznetsov, who played for the same KHL team as Kravtsov does, put up only 8 points in 35 games in his first KHL season at 18-years-old. The Washington Capitals' star really emerged in his second year playing professionally in Russia. The questions with Kravtsov is whether his postseason success was a fluke, or if it was a sign of what's to come. Additionally, the age-old question of how long it will take for Russian prospects to make the jump from the KHL to the NHL, will hurt Kravtsov's draft stock. Regardless, the talent is there and I think he will likely end up as a steal, assuming he is selected outside the top-12. In my opinion, the Kuznetsov comparisons are spot-on.
Rangers Outlook: Kravtsov is sort of my wild-card. I love his skill-level and think he should be a stud; however, I don't think it's likely that he'll be drafted in the top-ten. If he was to be drafted in that range, he would be selected by the Rangers. The only scenario where I could see this happening would be if all of the players ranked ahead of Kravtsov are off the board, and Jeff Gorton makes the surprising decision to pass on defensemen Evan Bouchard and Noah Dobson, and go for his highest ranked forward. If the Blueshirts were in that situation, I think Kravtsov would be a good pick.
---
9. Evan Bouchard, D, London Knights –
Evan Bouchard comes in slightly ahead of his CHL counterpart, Noah Dobson, in my rankings. It was very hard to choose between these two, and I could absolutely understand flip-flopping them and taking Dobson over Bouchard. It sort of depends on the position that the team that is drafting is in. In the end, I decided to rank Bouchard higher than Dobson. The London Knights' captain put up gaudy numbers in the OHL this past season, leading all defensemen with 87 points in 67 games. Although he posted these unreal offensive statistics, Bouchard does not play a flashy game. He has a great hockey IQ, a hard shot, he makes smart passes, and he is strong defensively. The only knock on Bouchard is that his skating could use some improvement. He is not one of the more exciting prospects in this year's draft, but if things break right for Evan Bouchard, he could have a future as a top-pairing defenseman.
Rangers Outlook: It's really hard to predict what's going to happen with this guy. I could see him going anywhere between 4th and 12th, and I wouldn't be surprised to see Bouchard end up on Broadway, as it sounds like Gorton and his staff definitely prefer Bouchard to Adam Boqvist. If my top-seven prospects have already been drafted, expect Evan Bouchard to become a Blueshirt.
---
10. Noah Dobson, D, Acadie-Bathurst –
Noah Dobson rounds out my 2018 top 10 rankings. Notching 69 points in 67 games, Dobson was arguably the QMJHL's best defenseman last year. After leading the Acadie-Bathurst Titans to a Memorial Cup victory, Dobson's stock has been on the rise. As I touched upon in talking about Bouchard, Dobson and Bouchard are very similar. They both have offensive skills and are responsible defenders at the same time. At 6'3'' without skates, one advantage that Dobson has over Bouchard is his size. Ultimately, there is an extremely small difference between Dobson and Bouchard, but if I had to pick I'd take Bouchard because I think he has the greater offensive upside. However, Dobson is a quality option and has shutdown-defenseman potential.
Rangers Outlook: The same goes for Dobson as for Bouchard. Predicting where he ends up is nearly impossible, but I wouldn't be surprised if his final destination is New York, as I think Dobson is also preferred over Boqvist. I'm unsure of who the Rangers prefer between Dobson and Bouchard. If Jeff Gorton decides he wants to take a blueliner it'll likely be one of the aforementioned two.
---
Conclusion: With seven picks in the first three rounds, this weekend will set the stage for what's to come in this new era of Rangers hockey. A successful draft would be the perfect start to what hopefully is a quick rebuild.
Let me know what you think of my rankings!
Follow me on Twitter @BrianPaget17!